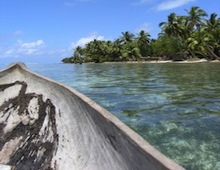 November 7th to 10th, 2013, hosted by the University of Oxford and the Sealinks Project.  One hundred scholars and students from around the world will gather for 3 days of presentations and discussions covering the latest multidisciplinary research on the early Indian Ocean.
The Indian Ocean has emerged as a major topic of interest amongst scholars across a range of disciplines in recent years.  Researchers in fields as diverse as archaeology, genetics, history, linguistics and palaeoenvironmental studies have all explored evidence for precociously early coastal and transoceanic movements of goods, people, ideas, plants and animals in the region.  The 'Proto-globalisation in the Indian Ocean world' conference provides an opportunity for these scholars to gather and to critically evaluate the evidence for and implications of long-distance contacts and exchanges in the pre-1000 CE Indian Ocean.  It will consider the goods, technologies and ideas that moved across the ocean in this period, evaluating the possible existence of early globalised commodities, exploring object biographies, and considering the role of cosmopolitan Indian Ocean contacts in transforming societies on the littoral and beyond.  It will look at how cultural transfers were intertwined with extensive movements of plant and animals species both domestic and wild, considering the ecological, agricultural and disease impacts of species translocations, and their implications for the contemporary world in terms of biodiversity and food security.  Finally, it will explore the axes, processes and agents of early Indian Ocean interactions, critically rethinking in particular traditional notions about the drivers and agents of early exchanges and commerce, and drawing attention to the important role of smaller, less centralised and/or more mobile societies in the early Indian Ocean.  The gathering of scholars from a broad range of regions, disciplines and projects will enable discussion, debate and the exploration of synergies, as well as consideration of larger questions about the degree to which the Indian Ocean represented a globalised space in the pre-1000 CE period, the role of data from earlier periods in transforming Eurocentric notions of globalisation and the ways that studies of the past might inform our understanding of contemporary globalisation.
Organisers
Nicole Boivin
Alison Crowther
Solomon Pomerantz
Participation
The conference has places for 100 participants.  Please contact Ms. Anetta Lateckova (contact details below) if you wish to participate.  Prospective speakers are requested to submit titles and abstracts (no more than 300 words) by 14 December 2012 to Anetta Lateckova.
Cost
Thursday 7 November, 2013: Opening Talks and Reception (Ashmolean Museum) FREE
Friday 8 – Sunday 10 November, 2013: Conference Day Rate with lunch (Jesus College) £49
Saturday 9 November, 2013: Conference Dinner (Jesus College) £30
Registration
*Registration is now closed.
Conference details to download:
Outline of Conference Sessions
Final Conference Schedule – November 1 2013
Conference Bursaries
Generous funding from the Wenner Gren Foundation has been provided to support the participation of scholars from the developing world.  This includes funding for two competitive bursaries for early career scholars.  For more information, click here.
*These bursaries have been awarded.
Conference Funding
The Proto-Globalisation in the Indian Ocean World Conference is funded by the European Research Council and the Wenner Gren Foundation.
Contact
Ms. Anetta Lateckova
anetta.lateckova@rlaha.ox.ac.uk